Ribbon Cutting at Dill Dinkers - North Bethesda
Dill Dinkers' purpose is to bring people together in the community by offering a year-round venue dedicated to the sport of Pickleball. They aspire to create an atmosphere that inspires fun, learning, healthy competition, and lifelong friendships.
On September 26th, more than 100 people gathered to celebrate with Dill Dinkers - North Bethesda as the Greater Rockville Chamber of Commerce conducted a Ribbon Cutting Ceremony.  Please see the full photo album here.
Rockville Election 2023 Candidate Forum was hosted by the Greater Rockville Chamber of Commerce, at the Thomas Farm Community Center on September 26, 2023.
Watch the full video here.
Ribbon Cutting at Therapeutique Salon & Spa
The Greater Rockville Chamber of Commerce and Therapeutique Salon and Spa had a wonderful Ribbon Cutting Ceremony on September 11th.
Therapeutique (THere pyooTeek) Salon and Spa welcomes you to their eco-friendly, technology-driven luxury environment. Creating a healthy working atmosphere for artistic beauty professionals who are thriving for growth, education, and opportunities. They believe in leading with a high-end level of culture and professionalism. That will lead them to advanced exposure to the community and industry. Saving our environment around us, creating change within us, and providing a therapeutic service for everyone!
Visit the full photo album here.
Adapting to the AI Revolution
Please review the recorded program here.
In the face of rapid AI advancements, resistance to change and a fear of the unknown can leave businesses lagging in competitive markets. Delve into an exploration of current AI capabilities, its limitations, and its potential impact on your business. This presentation empowers participants to cast aside these fears, embrace technological evolution, and future-proof their businesses. Learn how to leverage current AI capabilities to increase your productivity, as well as which critical skills that will keep you indispensable in an AI-driven landscape.
Presented by Marcy Santos, Bahar Consulting. Bahar Consulting is a leading authority in small business consulting, coaching, strategic planning, financial management, marketing strategy, revenue growth, and technology. Marcy Santos joined Bahar Consulting in 2021. She brings her entrepreneurial spirit to the team, with a focus on helping business owners increase their company's adaptability and resilience against changing market trends. She currently serves on the GRCC's Board of Directors and was honored as the 2021 Chamber's Young Professional of the Year.
On September 6th, we convened at the Cambria Suites Rockville to hear our panel discuss the current Access to Capital and grant availability.  Our panelists included:
Michael Clark, SVP of Business Development with AR Funding, Inc (Accounts Receivables Funding, Inc) for the last thirty-seven (37) years has worked financing businesses that engage with the Federal Government as either Prime or subcontractors.  Prior to AR Funding, Mike held various positions developing and managing portfolios of businesses for other banks and lending companies in and around the Northern Virginia area. He is well-steeped in the subtle differences between government contract lending and the subsequent structuring of effective lending programs to meet his customer and his enterprise needs.
Libo Suen, Marketing and Outreach Team Supervisor, U.S. Small Business Administration - Washington Metropolitan Area District Office (WMADO) leads WMADO's Marketing and Outreach team. He is the primary point of contact for all external communications and special events associated with promoting WMADO's business counseling, training and entrepreneurial support programs. In addition to supervising three Economic Development Specialists, Libo cultivates close working relationships with SBA's portfolio of preferred lenders in the Washington Metropolitan Area. Libo is a veteran of the United States Marine Corps. He earned his Bachelor of Arts degree from the University of Hartford and an MBA from The George Washington University.
Horacio Chacon, Capital Bank. Horacio Chacon is a relationship manager whose work is focused in the commercial and industrial sector of commercial lending. He specializes in lending money for commercial purposes, such as funding business expansion, funding owner-occupied commercial real estate, purchasing equipment or inventory, and meeting working capital needs. Commercial lenders assess the background, industry, and creditworthiness of a borrower, analyze their financial statements and business plans, and determine the terms and conditions of a loan. Commercial lenders offer term loans, lines of credit, and asset-based financing.
Speaking on available grants:
Cynthia Rivarde, Rockville Economic Development, Inc. (REDI). Cindy Rivarde serves as the Chief Executive Officer of Rockville Economic Development, Inc. (REDI), which identifies and develops economic opportunities to help Rockville prosper and lead as a 21st-century city for business. With her 20+ year background in commercial real estate law and development, she leads REDI in new and inventive ways to create economic growth, attract and retain businesses, and highlight Rockville as a premier community for businesses, workers, visitors, and residents. She has previously served as a Deputy City Manager for Coral Springs, Florida, the Community and Economic Development Director for Modesto, California (which included oversight of the City's Tourism and Convention Center), and the Economic and Cultural Development Director for Coral Gables, Florida. She obtained her law degree from the University of Connecticut School of Law, a Master of Fine Art in painting from Towson University, and a bachelor of arts degree in dramatic art/studio art from the University of North Carolina.
Jan Abraham, Worksource Montgomery. Jan Abraham has been a skilled business development manager engaging with businesses providing solutions for 30+ years. Currently, she is with WorkSource Montgomery as a Business Solutions Consultant. WorkSource Montgomery is a community facilitator and connector identifying issues and acting with partners collaboratively to ensure mutually beneficial outcomes.
Prior to WorkSource Montgomery, she was an Employee Relations Manager with 22nd Century Technologies, Inc. staffing for the NIH contract and overseeing 70+ Virginia State Contracts. She has her MBA from Marymount University in Marketing and Management and her BA from Ohio Wesleyan University in Political Science.
EMCEE: Laura Nash - West Financial Services.
Laura Nash is a Relationship Manager at West Financial Services serving business owners, high net-worth families and especially women in transition. Laura's specialty is transforming complex financial issues into manageable plans. She works with clients across the country offering financial planning and investment management, including retirement planning, estate planning, and philanthropic giving.
Laura is a CERTIFIED FINANCIAL PLANNER™ professional. She earned her BA and MBA degrees from George Washington University. She has a Certificate in Organizational Development from Georgetown University. She is the Chair of the Board of Directors for the Greater Rockville Chamber of Commerce.
CI Destinations Information Meeting
Did you miss the informational webinar by CI Destinations about the Amalfi Coast?  Have no fear, we recorded it for you and you can watch at our leisure.
How to Recognize Fake Emails by KBIT Technologies
There are so many scams out there today, and the scam artists are getting good!! Join us to learn the who, what, why, and how of fake emails and how to save yourself from becoming a victim.
On this webinar, you will hear from KBIT Technologies President, Brian Arshawksy about the email scams they are seeing and how to avoid them.
How to Navigate Your Member Information Center
Learn how to maximize your Member Profile on the GRCC website, post job listings, and more on this webinar.
3rd Annual Golf Tournament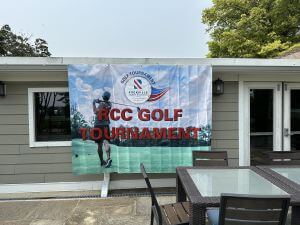 We had an amazing time at the 3rd Annual Golf Tournament held at Montgomery Country Club on July 17, 2023.  Thank you to all who came out to play and enjoyed the beautiful day with us.  The weather was perfect and the company was even better!
Thank you again, to our title sponsors, SERVPRO of Rockville-Olney and DARCARS Automotive Group.
To view all of the images from the event, please visit the photo album courtesy of ACB Precision Focus Photography.
We're already excited for next year's tournament!!
Is Your Business Prepared for Recreational Use Cannabis?
34th Annual Rockville Public Safety Awards
The Rockville Public Safety Awards Program, now in its 34th year, in cooperation with the City of Rockville and the Greater Rockville Chamber of Commerce, honors members of the Rockville City Police Department, the Montgomery County Sheriff's Office, the Montgomery County Department of Corrections and Rehabilitation and the Rockville Volunteer Fire Department.
The program aims to recognize outstanding achievements by the members of these public safety agencies based in Rockville. All of us have benefited from the fine service we receive from our public safety agencies. The awards are presented at a luncheon each year.  Click this link to review the images from this year's award ceremony.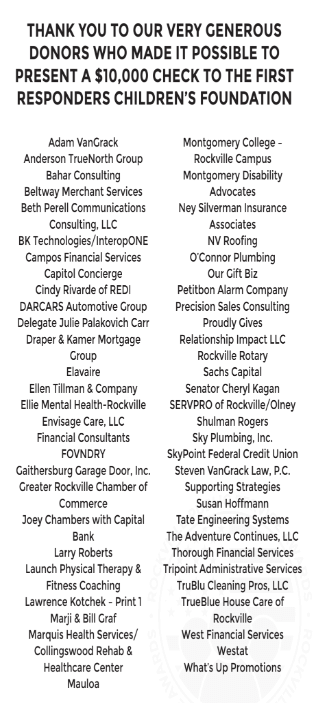 The WOSB program is excited to announce that we are introducing a series of short videos addressing various aspects of our application process. In response to applicant feedback and aligned with SBA's objective to continually improve customer experience, we've identified six areas that will improve application submission.
The following videos are up and ready for viewing:
·       Tax/financial documents for participants applying for Economically Disadvantaged WOSB status. We cover different types of tax documents required for these applications and answer commonly asked questions.
·       Required letters of explanation for outside employment and ownership so firm owners understand what is being asked of them and how they can provide documentation to address full-time devotion.
·       Resume requirements to not only detail the firm owner's work history, but to demonstrate the firm owner's experience managing the daily operations of the applicant firm. 
·       Governing documents such as the Articles of Incorporation or the Articles of Organization. We address what these documents are and where firms can find them.
Shady Grove Innovation District
by C.J. Overly, Senior Project Manager, Development/ BXP Life Sciences
2022 Public Safety Awards
2022 GRCC Golf Tournament
Visit the full album of photos...